Burgers & Pot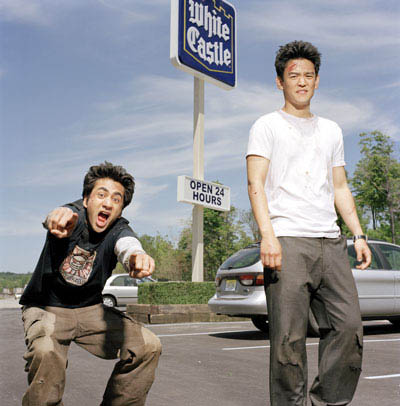 If you are looking to shut away the rest of the world and shut your brains & politically correct bullshit and enjoy yourself for a little while, get yourself the DVD, VCD, tape or see if this movie is showing in any of your cable channels -
Harold & Kumar Go To White Castle
. This is a hilarious movie of two marijuana loving young guys played by John Cho (Harold Lee) & Kal Penn (Kumar Patel) who are roommates - one a Korean American investment banker; the other an Indian American medical school candidate. Kumar is a rap music loving fun guy who always chides his stiff, proper & uptight buddy "Roldie" for not reached out and speaking to the woman of dreams, "Maria", who lives in the same apartment building as the duo. They go through a life changing journey, as they spend a night roaming the state of New Jersey in search of White Castle hamburgers.
One Friday night as Harold is stuck having to do his lazy collegues' work (which they trick him to do), he walks in on his roomie Kumar, cutting his pubic & ass hairs with his (Harold's) scissors. Harold & Kumar start smoking pot while watching tv & deciding what to eat. Kumar just finishs scolding Harold for not having the nerve to speak to Maria, when an ad for White Castle burgers appears on tv. They duo's stoned minds & bellies start craving for the fast food brand which they haven't had in a few years. So they head out to search for the nearest White Castle franchise, which seems to elude them. On their way they stop at an Ivy League University and hook up with some chicks who play (this is so funny) BATTLESHITS in the ladies toilet. They end up meeting actor Neil Patrick Harris (of Doogie Howser fame playing himself), led by a male nurse (played by Ryan Rodney Reynolds) to perating a victim of a shootout & a hick named Freakshow (played by an unrecogniseable Chris Melloni) & his amourous wife, get chased by a group of idiot racist punks & thrown in jail. They also get a huge packet of marijuana which they share with a cheetah (of all things!!!!) and finally land up the next morning just near a White Castle where they gorge on the burgers.
I really laughed out loud while watching this movie and throughly enjoyed it. The funniest part of the movie has got to be when Harold & Kumar steal the racist punks' jeep and then put a tape in the stereo.....to find out that the bad asses listen to cheesy 80s chick pop. The song changes to Wilson Phillips hit single "Hold On" and the duo start singing along with the lyrics. You have to watch it!!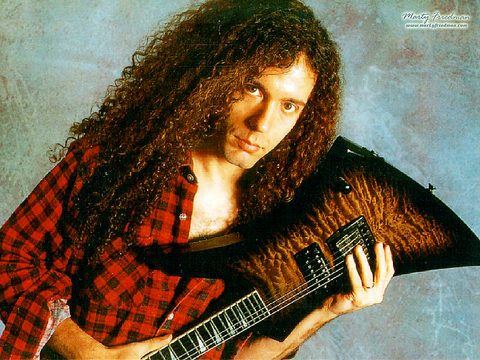 Song for the day - "Train Of Consequences" -
MEGADETH