Calicut Trip
Well I am back from Calicut. I left at just a little before 11:00 am on Monday morning, taking a bus from Edapally Kavala stop to Guruvayoor. After a little lunch (2 porottas & kadala curry, which I was so scared of eating) & a 7-up, from Guruvayoor, I boared the first bus to Calicut & reached MIMS stop at around 4 pm. By the way, I was forced once again to face the fact that Guruvayoor bus stop is the dirtiest & fucking filthiest place in Kerala that I have ever seen! It almost rivals Kalashi Palayam bus station in Bangalore & man that is outrageously filthy! I know that it is raining heavily now and that does not help anything, but really folks. It is so disgusting, it felt like I was walking on shit mixed with water!!
My parents decided to come back to Cochin on Monday itself, so I didn't get to see them. I took the same room at Kovilakam Residency just near MIMS, room 208. I checked in, met my cousin Sanker alias guy with the eyebrow piercing, got some coffee and then freshend up to go to the reception party which was held in City Plaza. I left the party after an hour & a half, as there were only 5 people I knew there. The reason for that most of the people I knew were from outside of Calicut & Tuesday being a major hartal, everyone wanted to go home. So, ok I had dinner there and took my exit after telling my uncle & aunt. I took an auto to the hotel & went into their gorgeously lighted bar for a couple of vodka+sprites. Then it was off to my room for some shut-eye.
Hartal loomed large & ominous on Tuesday, hardly any one on the streets. Only bikes ventured out. Breakfast was three huge slices of toast with jam & butter & two cups of coffee that I had room service bring up, which cost me Rs.60! Fuck! Shinoy was the first to turn up to see me, taking a lift from a neighbour of his. He showed up at the room at around 1:30. We stepped outside to have a light lunch at a roadside vendor (thattu omlette). Soon Mujeeb & Anoop came on the latter's bike. The two years between our last meeting melted as we caught up on things that have happned since. Like the fact that Mujeeb is now a husband & father! He didn't tell us before as he says it was kinda sudden (???!!!!). We talked for a while before decided to buy a full bottle of White Mischief Vodka from the hotel and some sprite. We had peanuts & salad with it and also got some omlettes from the same vendor before Anup & Shinoy went out to buy our dinner - porotta & beef curry. We ended the day at 9 pm with another pint of Vodka and said goodbye.
The next day I woke up & checked out as soon as I could so I could make two stops before boarding a bus back home. The first was to the Calicut DO office of my company to see a few friends & then to Hotel Hyson to meet Mujeeb again. I also saw Yamini, she of the infamous phone calls to me & the call centre. Anyway, Mujeeb & I spent an hour talking before we had a crappy lunch and then we said goodbye as I got onto a bus heading for Ernakulam.
While waiting for my friends to come to the hotel room, I was watching REGENESIS a tv series about Bio-technological experiments, terrorism & the spreading of a SARS-like disease. Well that is what the first episode was about - a disease that spreads from town to town & heads to Toronto. I have been waiting for this series to start airing from the moment I saw the trailers on Hallmark. It stars Peter Outerbridge & Maxim Roy. It promises to be one the best series I have ever seen.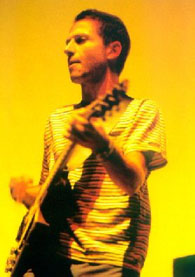 Song for the day - "Off He Goes" - PEARL JAM